West Coast Antiques was set up in 1996 originally as a purely wholesale business supplying to the trade around the UK. Aquiring the North Wales premises allowed the business to expand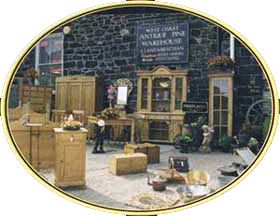 its activities to the public and with the on-site workshop be able to do custom restoration work. West Coast Antiques have grown over the years to their current position being able to share the great quality and diversity of stock and prices they enjoy as suppliers to the trade.
About Carol

Carol also presents a TV Garden Show Clwb Garddio on S4C . Carol has been in the business for eight years and particularly happy to advise on all gardening, garden design and supply of gardenwear and homewear matters.
About Peter
Peter has been in the Antiques Trade for over 23 years originally from Germany, Peter has key contacts throughout Europe and is able to source items to order. Peter hold contracts to supply Pub Groups, Hotels, Interior Designers, Architect and other specifiers.